Air Ambulance - Six decades of the Scottish Air Ambulance Service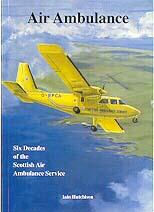 Iain Hutchison.

ISBN : 9780 9518 95825

Hardback - £19.95


The story of Scotland's air ambulance service began in 1933 with the dramatic evacuation of a seriously ill fisherman following a beach landing on the Isle of Islay by Midland & Scottish Air Ferries' pilot, Jimmy Orrell, in a de Havilland Dragon biplane.

During the sixty years which followed, a variety of aeroplanes and helicopters have been employed, but the drama for aircrew, medical staff and patients has not diminished. This book is divided into two sections - narrating both the historical development of a unique service, and the personal experiences of those whose lives it has touched.
Prices quoted include postage and packaging to UK addresses.
For orders to addresses outside of the UK, please email to check the postage supplement before making your purchase.