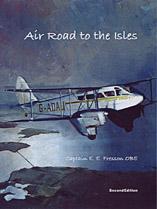 Captain E E Fresson OBE

ISBN : 9780 9518 95894

£24.95


Captain E E Fresson pioneered air services in the north of Scotland, including the first regular domestic air mail service. His memoirs, which include his earlier years in China building aircraft and as a WWI pilot in the Royal Flying Corps, were first published over forty years ago. The original book has long been out of print. Well-worn second-hand copies of that volume can set you back as much as £100.
This new edition has been compiled from Fresson's original manuscript and includes material that was omitted from the original volume. It is an illustrated hardback volume of nearly 500 pages including black & white and colour photographs.
Prices quoted include postage and packaging to UK addresses.
For orders to addresses outside of the UK, please email to check the postage supplement before making your purchase.