Flying People - bringing you safe flying, every day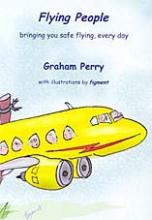 Graham Perry

ISBN : 9780 9518 95863

Softback - £12.95


Flying People is a wry look at the last fifty years of a century of flying, and especially at the character and determination of the people who, during that time, have made it a safe, everyday event. Because flying could so easily end in tears, it is a serious business - and aviation's people have developed their own ways of dealing with its many challenges. Perry demonstrates that they are problem-solvers, they are conscientious, they think and work as a team, and they readily share the lessons from their mistakes. Most of all, they dispense a cheerful cynicism as they defeat anyone and anything that threatens safe flying. Flying people have brought about safe, affordable ways of flying the world's people everywhere. This book celebrates them all.

Described by one commercial pilot as 'having something for air travellers, aviation enthusiasts and professional pilots', he assesses Flying People as 'an excellent read, well written and very informative'. Flying People has been illustrated by figment, the nom-de-plume of John Reed, celebrated contributing artist to the journal of the British Air Line Pilots Association.
Prices quoted include postage and packaging to UK addresses.
For orders to addresses outside of the UK, please email to check the postage supplement before making your purchase.