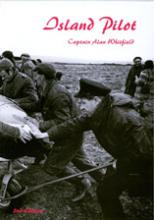 Captain Alan Whitfield

ISBN : 9780 9518 95887

Softback - £13.95


Alan Whitfield opened up airstrips and provided the first regular air services to the offshore islands of Shetland from 1969. As a result of his pioneering, islands such as Fair Isle, Fetlar, Foula, Out Skerries, Papa Stour, Unst and Whalsay received their first regular air services. Whitfield also narrates his early flying in Canada, Cumbria, and with Perthshire-based Strathair. He tells of his flying in the Western Isles and other parts of Scotland after his decade in Shetland. He describes the ferrying of a Twin Otter across the frozen wastes of Canada to Glasgow. And he revisits Shetland with Loganair upon the culmination, first of the air ambulance service, and then the Shetland internal scheduled service. Also described, for the first time, is the drama surrounding the crash on Kirkby Moor of a military aircraft carrying VIPs in 1939, which was one of the events that stimulated Alan's interest in aviation.
Prices quoted include postage and packaging to UK addresses.
For orders to addresses outside of the UK, please email to check the postage supplement before making your purchase.