Loganair: A Scottish Survivor, 1962-2012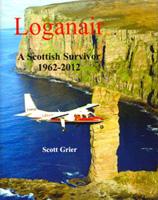 Scott Grier

ISBN : 9780 9564 47722

Hardback - £24.95


Loganair: A Scottish Survivor, 1962-2012 is an insightful account of the story of the oldest British airline name that continues to survive and thrive in today's challenging operating environment. Loganair has now been in business for over fifty years and Scott Grier, the company's Chairman, has been at the cutting edge of the airline's progress for thirty-five of those years.

This is a handsome illustrated hardbound volume that narrates Loganair's history. It is a story which encapsulates both the cut and thrust of harsh commercial realities and the special relationship that the airline has with communities whose social well-being is dependent upon reliable air services, sometimes operated over unforgiving terrain.
Prices quoted include postage and packaging to UK addresses.
For orders to addresses outside of the UK, please email to check the postage supplement before making your purchase.