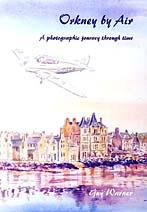 Guy Warner

ISBN : 9780 9518 95870

Softback - £12.95


Orkney by Air is a photographic record of aviation in the Orkney Islands from the first flights by Ted Fresson through to the twenty-first century. It is accompanied by historical narrative.

Air travel to and within the Orkney Islands began in the 1930s and Orcadians quickly adapted to the aeroplane as a regular mode of transport. This book covers the challenges and changes during three-quarters of a century. It presents a carefully selected collection of archive images that give visual form to the changes that have occurred in air travel in the Orkney Islands.

Orkney by Air is a book which is easy to dip into and will appeal to Orcadians, to visitors to Orkney, and to those with a fascination for flying and for islands.
Prices quoted include postage and packaging to UK addresses.
For orders to addresses outside of the UK, please email to check the postage supplement before making your purchase.