The Dream that Wouldn't Die : The 50-year fight for Prestwick Airport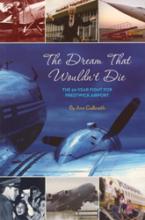 Ann Galbraith

Softback - £11.40


Prestwick Airport transitioned from being a major World War Two terminus for military aircraft arriving from Canada and USA - to being Scotland's designated trans-Atlantic civil airport. In the days when its fog-free environment was all-important, it hosted airlines such as BOAC, PanAm, Air Canada, Caledonian Airways and Northwest Orient - until 1983 when Air 2000 was granted rights to USA from Glasgow Airport. An airline exodus from Prestwick soon followed. This book documents Prestwick's survival strategies during those years.
Prices quoted include postage and packaging to UK addresses.
For orders to addresses outside of the UK, please email to check the postage supplement before making your purchase.