The Flight of the Starling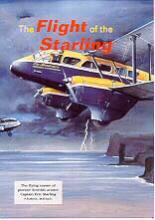 Iain Hutchison

ISBN : 9780 9518 95801

Softback - £9.95


Captain Eric Starling FRMetS MRAeS began his flying career in a primitive glider, hurtling down a hillside 'slightly under control.' Progressing to powered aircraft, Starling shot to fame in the aftermath of his night flying examination when he inadvertently strayed across the English Channel resulting in an emergency landing in a Calais street. Perhaps not the best thing for the c.v. of an aspiring pilot, but it brought him to the attention of Eric Gander-Dower - who was to found Aberdeen Airport in 1934, and appoint Starling as his chief pilot.

Following wartime service flying Wellingtons and Warwicks of RAF Coastal Command, Starling returned to Scotland, becoming Flight Manager for British European Airways from 1947 until 1968. His final three years before retiring were spent as air ambulance pilot, a role which he relished as 'the type of flying which I had been brought up on.' Eric Starling was one of the pioneers, and characters, of Scottish aviation. This is his story.
Prices quoted include postage and packaging to UK addresses.
For orders to addresses outside of the UK, please email to check the postage supplement before making your purchase.