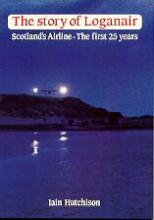 Iain Hutchison

ISBN : 9780 9064 37148

Softback - £4.95


This is account of the first 25 years of Scotland's Airline, Loganair, begins in 1962 when it began as an air taxi company. By 1987, it was flying a comprehensive air network throughout Scotland and to England and Ireland.

Many of the early Loganair pilots feel uncomfortable being described as pioneers, conscious of the illustrious aviators who opened air services during the 1930s. However Loganair deserves credit for re-opening the internal Orkney air network abandoned a generation earlier, and opening airfields on islands in the Shetland group. Some Hebridean communities experienced the air ambulance for the first time when Loganair became part of this service in 1967. By the 1970s, Loganair was heavily involved in both scheduled services and oil support flying. In an era when many air operators had a short existence, Loganair was, and remains, a real survivor in an often-uncertain operating climate.

Published by Western Isles Publishing Co Ltd, kea publishing has taken over this title which represents excellent value.
Prices quoted include postage and packaging to UK addresses.
For orders to addresses outside of the UK, please email to check the postage supplement before making your purchase.