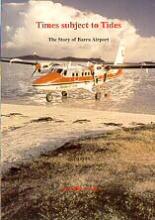 Roy Calderwood

ISBN : 9780 9518 95832

Softback - £9.95


The Story of Barra Airport, where life's a beach. There was once a time when pilots would not think it extraordinary to touch down on the sands of a Scottish beach. Those days are long gone - except on the Isle of Barra.

This southernmost of the main islands forming the Outer Hebrides nearly missed out when Scotland's air network was being developed in the 1930s. When surveying possible landing sites in the Hebrides, chief pilot of Northern & Scottish Airways, Captain David Barclay, had been unable to locate a suitable field on Barra. It was then that local raconteur, John MacPherson, suggested, "Why don't you just use the beach." Aircraft have being using the beach ever since - although not without incident.
Prices quoted include postage and packaging to UK addresses.
For orders to addresses outside of the UK, please email to check the postage supplement before making your purchase.