Turbulent Years : A Commercial Pilot's Story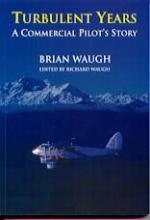 Brian Waugh

Softback - £18.35


A well written account by a pilot who began his engineering apprenticeship with the RAF in 1938, changed to flight crew and then served in No.75 Squadron during the latter stages of World War Two. He went on to civil flying in the UK on Rapides, including Air Navigation and Trading, and suffered a nasty accident near Newcastle-upon-Tyne in 1954. He emigrated to New Zealand where he flew Rapide, Beech 18 and Lockheed 10 aircraft over some of the country's roughest terrain. A blend of autobiography and historical reference, this book also contains details on the DH89 type including a history of all sixteen examples to fly in New Zealand since 1934.
Prices quoted include postage and packaging to UK addresses.
For orders to addresses outside of the UK, please email to check the postage supplement before making your purchase.