When the Coast is Clear :
The Story of New Zealand's first licensed air service - South Westland 1934-1967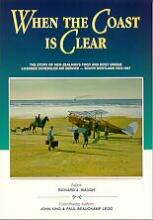 When the Coast is Clear : The Story of New Zealand's first licensed air service - South Westland 1934-1967
Richard Waugh (ed)

Softback - £16.40


A comprehensive account of perhaps the world's longest running de Havilland biplane air service. A detailed text written by experts with an array of mostly pre-war period photographs of DH83, DH89 and DH90 types, including some particularly rare colour images all reproduced to the highest quality standards. This pioneering air service helped prove the relevance of aviation for ordinary New Zealanders. A unique book and a 'must have' for any de Havilland enthusiast.
Prices quoted include postage and packaging to UK addresses.
For orders to addresses outside of the UK, please email to check the postage supplement before making your purchase.